Besides The Possibility Of A 4% Total Commission,
Why List With Us?
Our Best Answer Is:
Since 2004, Melissa brought more buyers to the closing table in Lake Placid, Sebring, Avon Park, Lorida & Venus, than any other broker or agent in the entire area.
Her buyers purchased over 600 homes during that period. The rest of the few hundred brokers and agents in Highlands County were well behind. Melissa was the #1 Selling-side agent in the entire area, so you'd be listing with a GREAT agent and your listing team will also include Zack (our youngest, yet experienced and energetic agent) and Dan, the Broker/Owner of All About Realty - AND WE WILL SAVE YOU LOTS OF MONEY!!
ALL homes will now get our rock-bottom commission structure (until further notice):
Your total commission will be 4% if Melissa, Dan or Zack bring a buyer and sells your home - and that occurs about 60% of the time with her listings.
If any other agent or broker sells your home, the total commission will be 5% - BUT, we will offer cooperating brokers 3% - making your home more attractive to sell for other agents, and we take less for ourselves! This is also a great motivation for us to sell your home ourselves - and save you money!
Commission split is far more important than many think - especially these days. Most brokers are offering significantly less than half the commission - this hurts YOU!
We have always split at least equally since the day we opened, and, very often, we offer more than we get. Make sure you ask any agent you consider listing with how they split the commission.
Any agent can stick a sign on your lawn and put your home for sale in MLS, but we work hard and spend a LOT on advertising to bring you buyers and save you money.
Most home buyers - especially with the amount of out-of-town buyers we have in our area - start their search online and we have a comprehensive Web strategy to sell your home. We get an amazing amount of buyer leads for Sebring & Lake Placid from the top 4 real estate sites (Zillow, Realtor.com, Trulia and Homes.com). We also feature our listings on those sites and we are featured agents (you'll see us popping up all over the place if you search). Our Website is highly placed with Google, Yahoo and Bing (and literally over 100 other search engines and directories).
We also do traditional print advertising - such as our big ads each month in the Highlands Homes magazine - among many other things (more listed below).
We offer our buyer clients a rebate of our commission (this can "buy" loyalty to give us a chance to work with more buyers). We are not greedy and make up for our better rates through volume.
We can offer lower commissions because we don't pay significant franchise fees and keep our non-marketing costs down. That is our competitive advantage. Of course, the large franchise's competitive advantage is having a "name," but these days, that doesn't mean much - we are premier agents on the top 3 real estate Websites and we have several top selling agents (including the #1 buyer agent - Melissa). It really all comes down to the individual agent and broker.
Another important thing to consider is: The large brokerages have MANY agents with very little experience and marketing dollars, so it's very likely you could get stuck with one of them. That may sound a bit harsh, but many agents work part time and do not spend on advertising - that is a simple fact. Also, the top 10% of the area agents sell the vast majority of the homes - so why not utilize a top agent?
Of course, there are some very good agents at the large franchises and they can offer you great service and great marketing, but it's very difficult for them to offer ALL that and still save you money. But we can, so call us today for a listing appointment - you'll be glad you did!
A Note About Teams: Don't be fooled by disingenuous statistics. Some teams have 10-20 agents that mass all their statistics under a single person. It is typical for a husband/wife and small 2-3 people teams to do this, but in some cases the agent is claiming sales they had NOTHING to do with, or had a large team of people working simply to get (trick?) people into listing, then they rarely or never show your home - instead of "Team", a better description is: "Listing Machines That Overcharge"!
Melissa wrote EVERY contract, shows her listings, and worked with every client listed in her statistics (well beyond going to a listing meeting) and ALL our agents keep their own sales statistics.
---
Click Here For A List Of Recently Sold Properties!
---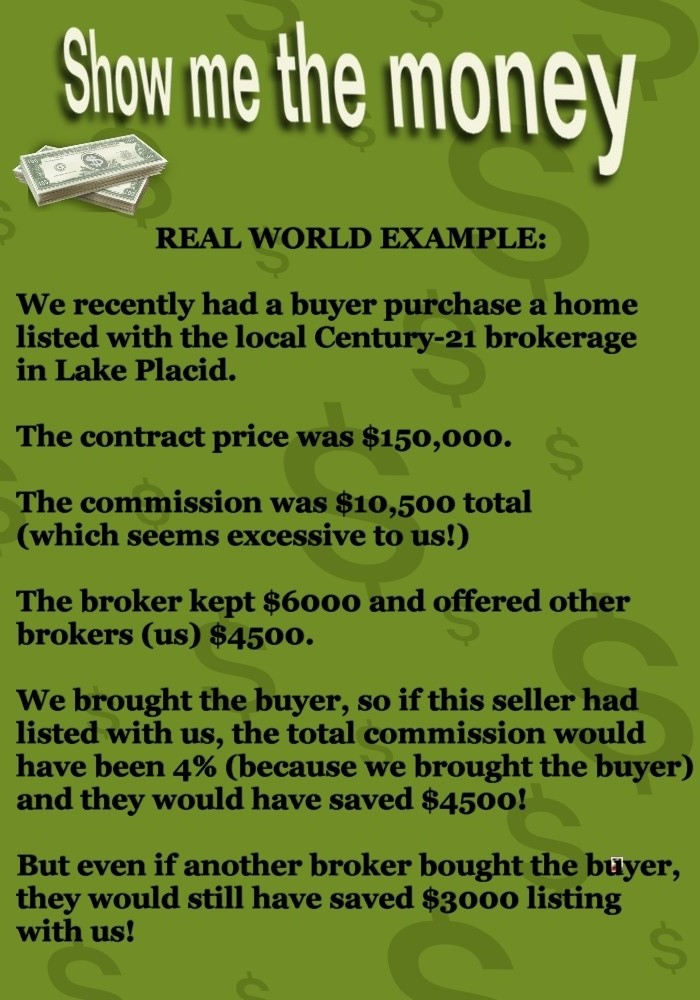 Virtual Tour Page. See how great we can make YOUR home look (virtual tour will be in MLS, on Facebook, Youtube, on our site, Zillow, Realtor.com and other real estate sites.

If you want to discuss listing with us, Email to set up a listing appointment or you can call us at any time at: 863-840-2870 or 863-414-0009. Ask for Melissa or Dan.


We've advertized in and/or now utilize these print publications:

Homes Of The Heartland
Heartland Showcase Of Homes
Real Estate Source
Highlands Today/Tampa Tribune (colorful, full-page news ads!)
The News Sun (Gold Partner)
The Home Shopper
The Coffee News
The Journal

We're constantly refining our advertising. Some of the things we've done include ads in a variety of newspapers, specialty publications and supplements. The Chamber Of Commerce (flyers, business cards and via their Web Page with a display ad that link to our Web site). The billboard near the Citgo Station between Lake Placid and Sebring on US 27 for several years. The Royal Palms bowling center overhead Monitors. We utilize Virtual Tours on some homes to get more attention.

We do quite a bit of seasonal and special advertising. For example, we took well over 40 classified ads in small newspapers up north during the cold spells in 2010.

We have a TV commercial we sometimes run (on many spots on ESPN, Golf Channel, & more) in South Florida and South West Florida - another way we're doing our best to "pull" buyers into the area!

But, our Web strategy is our most powerful tool. More and more buyers search Online, especially people from out of town (most buyers in our area come from ou of town). Our is one the highest visited sites in the county – not just in terms of real estate, but ALL sites. We get several thousand visitors each month - just like you. We are highly ranked and advertise on major search engines such as Yahoo, Bing, Google and more.

We also advertise on top real estate Web sites like Zillow, Realtor.com, Homegain.com, YahooRealEstate, Realestate.com and AgentConnect.com.

One of the best things we offer is that ALL our Realtors are mature and dependable. We have sold HUNDREDS of properties with no complaints (you can check complaints at the State Of Florida - see below). We have agents with home inspection experience, investment experience (your home is often your BIGGEST investment – we treat it that way), all our agents now have owned their own business, and all work to keep a detailed knowledge about our area's market.

So, if this all sounds good, contact us and we'll try to get as much as you can for your home or land - you won't be sorry! Email to set up a listing appointment or you can call us at any time at: 863-840-2870 or 863-414-0009. Ask for Melissa or any other great agent at All About Realty.


*Based on information from the Heartland Multiple Listing Service, Inc. for the period 1-1-2004 through 12-31-21. This information may or may not include all listed expired, withdrawn, pending or sold properties of one or more members of Heartland Multiple Listing Service.

Real Estate Links


We've sold hundreds of properties and we have not had a single complaint - that's because we work hard and are ethical! Feel free to check with the State Of Florida Real Estate Commission to check on ANY agent (including us!).