Today started out with dark clouds in the East but did not turn into any rain. As I write this, we have thunder outside and a good chance of some rain in the early afternoon. Water Temperature at 9 am was 78 degrees. Fished with a crank bait today and caught a bunch of bluegills. Checked out the rip rap dam built on Cat Fish Creek and the water that comes from Lake Placid and other areas was flowing pretty fast. A lot of water coming in but again I believe water is being let out. Water level is 4.5 foot below full. Water temperature today was 88.6 degrees. Water clarity has improved to 4 foot. Only one other boat was seen of the lake this morning.
Fishing on Lake June still seems to be good if you are interested in catching small bass. Last two outings have produced 21 bass with only one measuring 14 inches. So the the quantity is there but the size is lacking. Today's high at 9 am was 80 degrees with water temps at 83.5 degrees. Water clarity is around 3 foot. Normal is 4 foot but rain in the last few days have lessened the clarity. Winds were calm this morning with cloudy conditions until the sun came out at 9 am. If you want to fish for the larger bass, fish deep.
Today was a sunny day with a high of 89 degrees. Water temperature is rising and water clarity is improving mainly due to fewer boats on the lake. Winds today were out of the South West at 2 mph. Very calm morning. Caught most fish in deep water with (artificial) worms. It has been raining every day with just isolated spurts for a short time. So be prepared for a short rain during the day. Good Fishing.
Many of our clients love Florida for diving, fishing and other water sports - we're into quite a bit ourselves! We are off to swim with the whle sharks for a few days and here is Dan shark diving video/slideshow (he took the pics and vids) - pretty wild!:
Watch Video
Wow, we keep hearing how great it's been in nearly every lake! I don't remember so many postive comments from so many fishing clients and buddies - they are reporting some great catches (and severla large fish!). We have not been on the lakes too much for fishing; been doing more pleasure boating (mostly taking people for rides, etc.) lately ...
We've been hearing the best reports for several years - many 5, 8 and even 10+ pound bass being caught in several area lakes! Grassy, Huntley, Clay, June and Istokpoga getting multiple good reports this winter/early spring so far. Water levels are now well up from the low-water conditions six months ago. The fish seem to be big and plentiful.
Cap'n Johnny has been doing well in the canals off Lake June and several of our buddies in Camp Florida are catching LOTS of fish on Grassy (they are hosting a fish fry for a couple hundred people soon!). We've heard Istokpoga has been producing pretty well - and some BIG-UNS
Unfortunately, Melissa & I have not been out on the area lakes for a couple months - longest stretch for us in 10 years! We did have the pleasure of taking the boat to West Palm a couple weeks ago and are hitting the Keys in a few weeks. We'll be back on the lakes ... hopefully soon as the high season winds down and we get our lives back for a while!
Good reports this spring but very low water in lakes such as Grassy & Istokpoga so be careful!
Melissa and I snuck out on Grassy yesterday and caught two small ones in less than an hour on spinnerbaits.
Well, we haven't been anywhere near a lake (except when showing homes). The snowbirds are back and buying up the best foreclosures and keeping us very busy (a good thing!). That said, we're going to try to get more reports from other sportsmen (and sportswomen).
Cap'n Johnny is fairly new to the area. He came our way from Colorado and is an avid bass catcher (notice I say catcher, not fisher). His wife, Connie is pretty good too! Here are his Lake June January reports:
1/11/11: Water temp 63.5, Caught 8 bass, best bass 13.25." This time I was out in 13 feet in the main lake (drop shot 4" dark curly tail worm). My neighbor went out at 7am and trolled the main lake. Caught 40 bass in 6-8 feet of water. Best bass 14" but not sure of the bait ...

Summer, 2010

First, a warning: Lake Grassy is pretty shallow over by the islands (and a couple other spots). Lake Placid is shallow near shore in several areas, so stay well out if you're "cruising along". Lake Jackson is VERY shallow in places. The bottom line now (as always) is: Be careful!

Wow! Nearly everyone we've heard from has said the fishing has been at least good (it's unusual to hear No complaints about any lake or area). Paul, over in Camp Florida (Lake Grassy) told us he has done fairly well in Grassy, but the bass have headed into deeper water with the summer heat – across US27 to Little Lake Grassy. Little Grassy is a lot smaller and deeper than Grassy. The little canal that goes under Grassy is navigable by small boats or PWCs – sorry to the ladies and gents with bass boats and larger runabouts!

Lake June is supposed to be hot! Docks, deeper areas, you name it. We fished near our canal lot (on the Peachtree" canal and caught a few – that canal is pretty deep and fun to fish (lots of docks, lay-down trees, etc.).

We've heard form Art & Ellen Donowitz that his dock has been phenomenal for bass and specks (and he showed us some really impressive photos). They have the gorgeous new home in Lake June Pointe, near where the street "turns. toward US27.

We never seem to hear anything but good news out of Lake Placid. Everyone we've spoken to during the past 6 weeks has had nothing to report but good to great fishing.

Spring, 2010

Who needs a boat? New resident, Chris King, now has to explain to his wife, Helen, why spending all that money on a bass boat was necessary because Chris caught this whopper right off the dock in the backyard on Lake June. They're out there, ladies and gentlemen, you just have to GET them!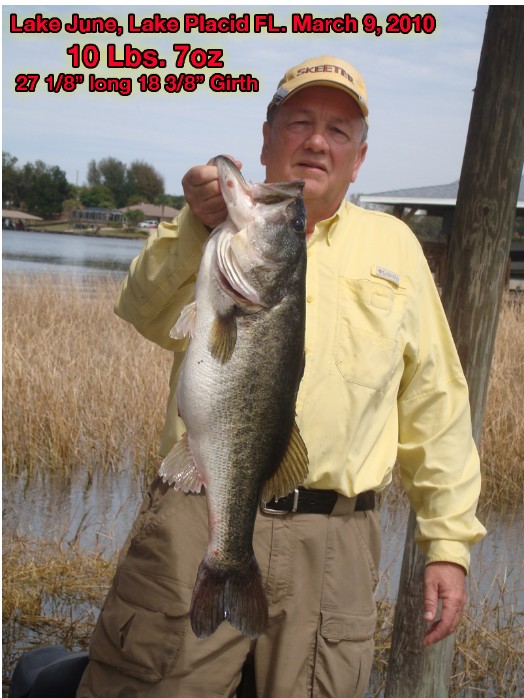 Summer, 2008 Report
We simply haven't had the time to go out too much, but we manage to sneak in a few short "sessions" on Lake Grassy now and again. The lake is down considerably and Grassy is a shallow lake to begin with so boaters and PWC operators have to be extremely careful. Some "artificial reef structure" (basically limbs and/or concrete blcoks and the like) are right at the surface or hiding just below. These are still producing. I cast spinnerbait over a few and did pretty well – severla small ones.
Another thing we tried was to go over the deepest spots with a good amount of weeds underneath (some of them exposed at this point). We cast spinnerbait again and again to cover as much ground as possible. This worked well with about 3 in an hour. The fish are pretty aggressive now, so going for good reaction bites with noisy, quick retrieve baits and surface baits can provide some good excitement.
We've been spending much more of our limited fishing time offshore near Stuart (where we keep our ocean boat – the H2Office.
As for other lakes, we've heard Istokpoga, though very low, is producing pretty well. They sprayed for Hydrilla on May1 which killed quite a bit of the invasive plant. People have told us early morning is best (maybe that's when more people are actually fishing now that it's hot!). June is always decent it seems. We've heard a few people say they cought several 3-6 pounders lately. Most boat ramps are affected by the low water, but June is pretty good (it seems to get deep a lot quicker than most other lakes. Lake Placid is VERY low and we haven't had a report out of there in a while. Lake Clay seems to be producing in the early morning hours from what we'v eheard - Clay always seems pretty good for smaller, schooling bass and a few big ones (remember to carefully put them back and there will be a lot more big ones!)
Winter, 2008 Report
Well, we finally made it out for a morning of fishing - it's been too long! We went out on Grassy and really slammed them - using spinnerbaits. We caught (and released) 8 bass and one chain pickerel in 3 hours. Not too bad. Nothing too big but fun nonetheless.
One thing that concerned us was with the water so low; a LOT of the areas with cover are now useless to the fish. Grassy is very shallow in spots so there are a lot of formerly good "fish holding" areas now pretty much empty. That will certainly have an impact, so we're encouraging everyone to let those bass go. We were casting over the deeper, weed covered areas as a lot of the shoreline areas (with grass) were just too shallow or dry for the fish. Now, many of the other lakes have a better depth, but I'd say we all have to be a bit careful these days and do our best not to severely impact the fish populations. After all, we want to continue to have good fishing in these lakes!
Also, BE CAREFUL! We noticed some very shallow areas well out in the lake, so for those of you who are seasonal or weekenders who haven't been out in a while, or those who don't know the lake real well, you could easily ground in areas that were pretty much unthinkable 2-3 years ago. There were also a few areas we noticed with cinder blocks that were only 6" under water now! The watercraft operators also need to be careful – they don't want to hit bottom doing 40-60mph!
Late Summer, 2007 Report
Sorry it's been so long since the last report, but we've just been too busy to fish (what a shame!). We have been out on the lakes on watercraft and in boats, but mainly with clients or friends just cruising around. From what I've heard, the fishing has been better than average this summer with a few really great reports from some on Lake June, Clay and Grassy.
We did, however, go out for some fishing and lobster early August. We had a great time down on Big Pine Key. We caught quite a few lobster (lots of shorts out there, but plenty of keepers), a couple sharks, a huge cuda and a nice grouper. We caught quite a few other fish as well, but let everything go except the lobster and the grouper.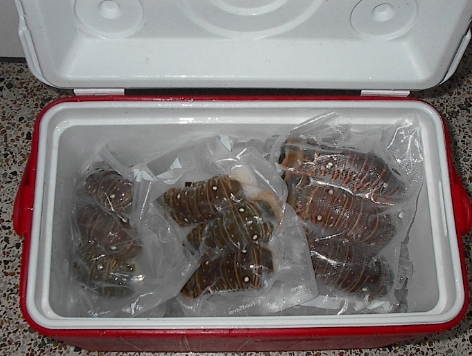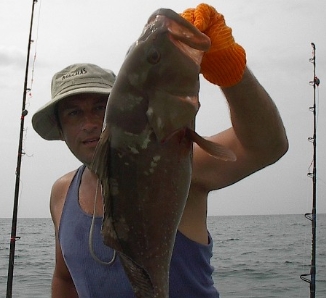 February, 2007 Report
After last month, we HAD to get out again! We went out twice this month - once offshore in the Gulf Stream off West Palm and once locally for about an hour. I have to say the local action was better! We went out about 5 hours in the ocean and caught about 10 fish. We kept two and they made a small, but nice dinner.We "snuck out" for an hour in Lake Grassy and hit some good ones! Several chain pickerel and some nice bass. To do that well in one hour is pretty good!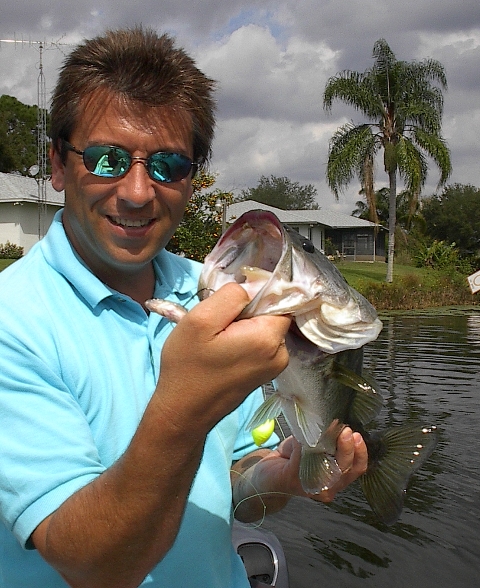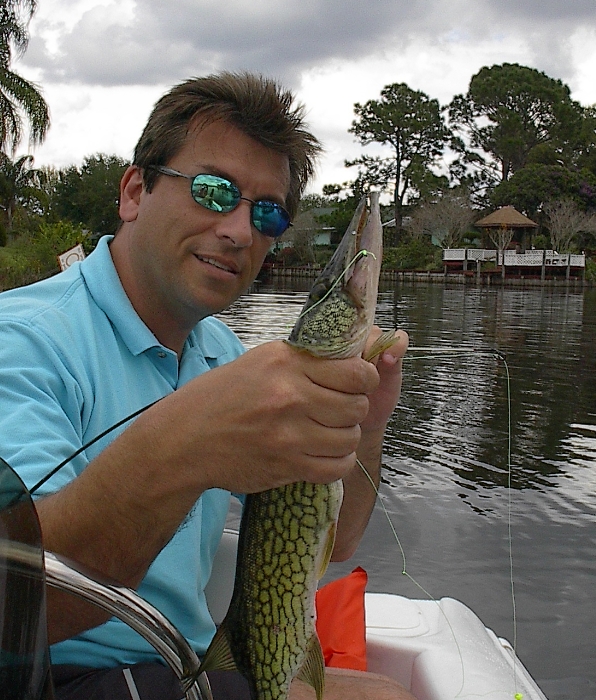 January, 2007 Report

We FINALLY made it out for a good fishing evening then the following morning on Lake Grassy Mid month. It was the best fishing in quite some time for us. We caught/released 16 bass between three of us in about 5 hours total fishing - several in the 3lb+ range. We had heard the fishing hadn't been great on Grassy for a couple months, but we did very well.
December, 2006 Report

Sorry we've been "absent" on these pages - I can see from site statistics that quite a few people end up on this page! We've just been too busy to report in and a few of our "contacts" haven't fished that much either.
Per usual, we've heard from several people that Lake Clay has been pretty good for smaller, schooling bass. An angler at Camp Florida (Lake Grassy) reported that he's been fishing on live bait for bass and had "terrible" luck for the past couple months - that's surprising because we've generally done well on Grassy. I caught a VERY small one on a spinner bait but that was it (though i was only casting about an hour or so).
Lake Jackson seems okay - nothing great, but good accoring to Dale Andrews.
Trails End Fishing Resort on Istokpoga (863) 655-0134 reports that the specks are being caught at night in good numbers. Bass is steady, even with the low water. The lake has been drained for hurricane season and with no storms and a relatively dry season, the water is pretty low right now.
Glen Hunter Guide Service on Okeechobee (800-541-7541) reports that the lake is still very shallow. Only certain areas are deep enough to fish. The Monkey Box is too shallow for boats. Fish the Kissimmee River, Harney Pond and Sportsman Canal for speckled perch and a few bass.
We haven't received a report on lake June and we haven't been fishing there for a while, so you tell us ...
June, 2006 Report

KISSIMMEE CHAIN: Grape Hammock fish camp: (863) 692-1500: Bass catches continue to be excellent with bass to 8.5 pounds reported. Big bass are still being taken frequently. Bluegill catches were excellent on the full moon week.
LORIDA-ISTOKPOGA: Trails End Fishing Resort (guide service), (863) 655-0134: Excellent bluegill catches. The lake has been stirred up by the winds lately, but should be OK soon.
OKEECHOBEE, THE WEST WALL: Glen Hunter Guide Service, 1-800-541-7541: No change. The drawdown of this lake is excessive this year due to hurricane fears and dike concerns, even though authorities have stated there is no danger of the dike failing. The Kissimmee River and the rim canal, Harney Pond and other canals have tons of fish in them, and they are there for anglers to go after.
Lake June has been okay - we haven't been out in a while (too busy working!), but several friends reported good bass catches on jigs--Dan
We hear that Lake Clay continues to be a good spot for anglers--Dan
We haven't been in Lake Grassy for a while either, but the last time we went it was okay - we caught 3 mid-sized bass in about 2 hours--Dan
I had a terrible day with spinnerbaits on Lake Istokpoga. It was a nice day and i thought I'd do well, but I hit a few good "usual" spots, and only caught one in 5 hours - that's Fishing! -- Dan
Taking a trip to the golf?
10,000 Islands area: The redfish are beginning to fall off some. This will continue until about late July or August when they will be back in droves. Great snook catches are coming from the back country. Tarpon are in the rivers and triple tails are hovering around the downed tree limbs. Trout have been easy to catch.
BOCA GRANDE: Captain Rich Knox, (727) 808-6688: Sharks! They are moving in as more tarpon arrive. By the end of the month, you should be able to walk on the tarpon. You can usually hook from 5 to 7 fish on a half-day trip, providing the winds are down. Otherwise your jig bounces too much. New rules: Your jig must be tied with material the same strength as your line. Only 3 lines are allowed off any boat. No breakaway gear is allowed.
SARASOTA: Captain Rick Grassett, (941) 923-7799: Siesta Key and Sanibel. Good hook ups on flies. One trip in Pine Island Sound resulted in several hookups and one landed. At Siesta Key, three were hooked and one 80-pound fish brought to the boat. A live crab enticed a 140-pound fish, but was cut off on a crab trap (sportsman's release)
BRADENTON: Perico Harbor Bait & Tackle, (941) 795-8433: Pompano are on the beaches and in the channels and deep flats. Mackerel are all over the outside and inside. Trout, snook and redfish are the staples. Bluefish have moved into the bay and are biting off trout rigs left and right.
SOUTH SHORE BAIT & TACKLE: (813) 677-2575: A happening! When you see a school of bull sharks gorging on big jacks, it is best to get out of the way. Otherwise snook catch and release action is the hot target. The Archie Creek and Kitchen flats are still producing good numbers of redfish, bonnet head sharks, black tip sharks and mackerel.
Taking a trip to the the Atlantic?
St. Lucie County - Fishing Center of St. Lucie reports flounder and bluefish being caught in the Fort Pierce Inlet on cut finger mullet. Spanish mackerel and bluefish continue to be caught along the beach hitting spoons, jigs and cut bait. Kingfish are also being caught in 80 feet, hitting live and dead bait. Dolphin are being found in 120 to 220 feet south of the inlet, hitting rigged squid and ballyhoo. Live and frozen shrimp are enticing sandperch around the Inlet and bridges. Spotted seatrout and redfish were caught just off the grass flats near Jack Island hitting D.O.A Shrimp and live shrimp.
Martin County - Snook Nook in Jensen Beach reports redfish and spotted seatrout crushing top water plugs early in the morning on the west bank. Large tarpon should begin moving into the Inlets and along the beach feeding on live baits. Smaller snook are being caught on the grass flats with larger snook moving toward the St. Lucie Inlet and beaches. Dolphin are feeding around weedlines in 70 to 300 feet. Kingfish have moved near shore reefs hitting in 20 to 30 feet. Mutton snapper are hitting sardines and jigs tipped with small bait strips or squid.
North Palm Beach - Tom Hudson of West Palm Beach caught a 33.9-pound wahoo to win $2,000 in last weekend's Palm Beach County FOOLS tournament by high-speed trolling a blue jet-head lure in 118 feet off Singer Island. Hudson was fishing with friends on the Tomakazie. The wahoo hit at 7:40 a.m. Michael Wood, 15, of Lake Worth caught the largest fish of the tournament, a 36.2-pound kingfish that hit a live goggle-eye around 7:30 a.m. in 90 feet off Lost Tree Village. Wood was fishing with his father, James Wood, on the Woody. Juno Pier anglers were catching lots of live greenies, pompano and jacks up to 20 pounds. Earlier in the week reports of kingfish, bonito and cobia were taken from the pier.
South Palm Beach - Pete Testa caught a 28-pound dolphin Thursday on a ballyhoo trolled behind his kayak one mile off the Lake Worth Pier. The fight lasted 30 minutes with other dolphin following around scattered weed patches. The Sea Mist III drift boat reported 30 yellowtail snapper and three kingfish on its Wednesday morning trip out of Boynton Inlet. Dolphin up to 15 pounds were found 20 miles offshore around floating debris Wednesday on trolled ballyhoo. Snook are hitting Gulfstream Flair Hawks on the south Jetty of the Boynton Inlet early in the morning. Mangrove snapper and sandperch continue to hit live and frozen shrimp along the seawall.
Winter, 2006 Reports

NOTE: We were told a few times that the fishing has been great - for both specks and bass - in Lake Clay. Once again, we've been working almost every day so we just haven't been out there. We're trying to get the boat over to Fisheating Creek, but haven't arranged that yet - we'll report on what we catch when we finally get out there. We have been in Lake Grassy onc e or twice the past couple months and the fishing was marginal (not as good as usual). We had one hot morning where we caught and released 6 bass (and a couple chain pickeral) in about 2 hours, then it died. -- Dan & Melissa

LORIDA-ISTOKPOGA: Trails End Fishing Resort (and guide service), (863) 655-0134: Bass action is hot with a few big ones (7 to 10 pounds). Conditions have been improving. Speck catches only fair.

OKEECHOBEE, THE WEST WALL: Glen Hunter Guide Service, 1-800-541-7541: Bass action pretty good latley, including a few 7- to 9-pounders. Speck catches have been good but not great.
Summer/Fall, 2005 Reports

NOTE: We just heard - from a good source - that Lake Grassy & Huntley have been better than good lately - September, 2005 (even better than Istokpoga!). Please catch & release in these lakes - keep 'em good.
We just haven't had time to go out fishing much lately - unfortunately - but we've heard quite a mixed bag. Some people tell us the fishing has been slow, and several say it's been pretty good. I think it's just a matter of being lucky and getting out there at a good time.
The couple chances we have gotten out there for a couple hours (both on Lake Grassy), we did pretty well. Melissa hooked a monster on a large spinnerbait last time, but she didn't get it in the boat - THAT was a good one! I caught a few and several chain pickerel (sort of like a small version of a northern pike) on medium sized spinnerbaits. In general, we think Lake Grassy is a lot better than Lake June.
Melissa & I were also in the Lake Placid Chamber Of Commerce Bass Tournament this year on Lake June, which didn't go too well for us. We caught a couple tiny ones, not even close to keepers. However, several teams did pretty well, so it was just us not getting it right. I guess we're not nearly as versatile as I'd like us to be.
Henderson's Fish Camp on Lake Istokpoga reports that rain has really put a damper (pun intneded) on quite a few guided trips. However, when they have made it out, fishing along the creek mouths (for bass) where the water is moving fast has been pretty good. Fly anglers have been taking bluegill on bumble bee bugs. Contact: Mike Bennis, (863) 465-2101.
Per usual, bass catches have been good on Okeechobee. Bluegill have also been filling many coolers. Contact: Glen Hunter Guide Service, 1-800-541-7541
Winter, 2004 Reports
December:
We didn't get out much as the weather wasn't always cooperative and the holidays had us pretty busy. We heard the fishing was "okay" most of the month on Lake June and Lake Grassy. Didn't get much information from anyone ...
January:
January wasn't the best month for fishing. It seemed that cold front after cold front kept the fish from biting. We tried shiners, spinnerbaits (which we figured wouldn't work!), crank baits and other stuff, but nothing produced much.
Some nice kids fishing at the Placid Lakes resident's park (Catfish Creek) told us they caught two nice bass on bacon - right off the dock! Hmmmmm ... maybe we should trailer the boat, forget the $8/dozen shiners and buy some bacon!
LAKE JUNE: At the end of the month, things picked up a bit, but it wasn't great. We caught a couple bass on spinnerbaits and a couple Chain Pickeral using spinnerbaits as well.
February:
LAKE JUNE: The month started off pretty good - we hit 4-6 bass per day, but mostly under 2.5 pounds - but it's been fun after all the cold fronts so far this winter. And it's always nice to be out on the lake. We caught 6 bass in the morning along the weed edge by Lake June Pointe using live shiners. Lure action was a bit slow. We heard the speck fishing was okay - we haven't been out pan fishing yet this winter.

LAKE ISTOKPOGA: Henderson's Fish Camp, guide Mike Bennis, (863) 465-9481: Bass catches finally have picked up. Bass are in the shallows bedding. Specks are spotty, with low numbers of catches reported.
LAKE PLACID (Trails End Fish Camp (863) 655-0134): Bass catches have picked up, with catches from 8 to 10 pounds taken on live shiners during the better weather. Specks have generally not bedded. Most specks caught are large fish.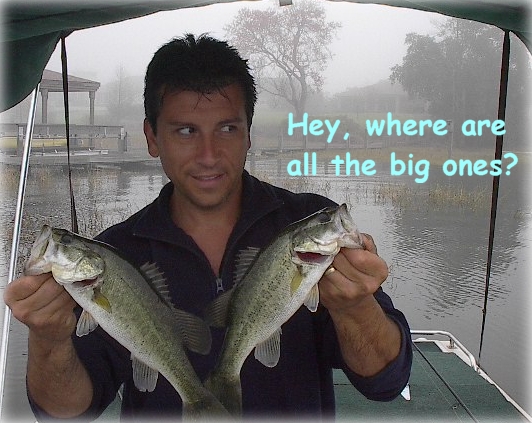 This site is brought to you by Dan & Melissa DeBono.