Estero Real Estate Office Map
And Contact Information
We are not located in Naples or Ft Myers, just getting in on Estero because it's "hot" - we have full-time agents and an office manager living and working IN Estero.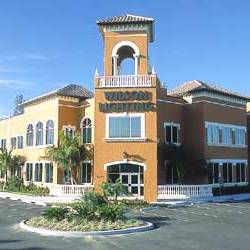 Our office is located right on the Estero/Bonita border - on the West side of US41 just south of the big ship restaurant (you can't miss it - the big 3-masted schooner) in The Renaissance office building (also home of Wilson Lighting and home store). It's across the street from the new Bonita Community Medical Center and near the Coconut Point Mall. We're in #208 - take the elevator and entrance on the north side of the building. Mailing address: 3333 Renaissance Blvd. Suite 208, Bonita Springs, Florida 34134.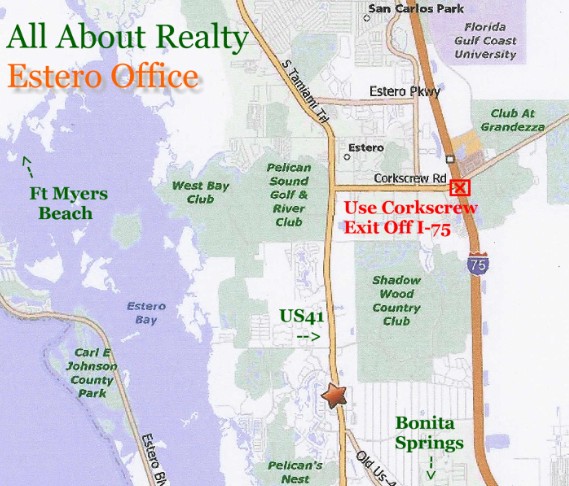 Office Manager - Cristina Fernandez-Schultz. Cristina is a VERY efficient and dedicated presence in our Estero office. She keeps all the many details straight and will work hard to ensure all our customers are happy. She speaks both English & Spanish very fluently. Email Cristina
Full-Time Buyer & Seller Agent - Brian Schultz. Brian has many years' experience selling real estate with licenses in multiple states. He LOVES the Estero area. His (& Cris') children go to school here, play hockey, dance, and they are involved in a lot more. According to Brian: "We live, work and play in Estero because we believe in this community and the quality of life it offers. Let me show you - you'll understand what I mean!" Brian now works exclusively in Estero, so you know you're getting a dedicated, knowledgeable agent. As for sellers, he'll work with a select few who price their homes right. He'll create a comprehensive marketing plan and advertise their homes extensively. If a home is priced right and marketed correctly, it will sell a lot more easily. Email Brian
Broker/Owner - Daniel F. DeBono. Dan is the broker for the three All About Realty offices and is in Estero a couple days each week. He has experience with property management, investors, and he loves doing detailed research so his clients find the best home at the best price.Email Dan
Full-Time Buyer's Agent - Melissa DeBono. Melissa is an award-winning agent with literally hundreds of transactions under her belt without a single complaint! She has been a top producer for years and works hard to make her clients' buying experience pleasant.Email Melissa
Part-Time Buyer's Agent - Peter Gold. Peter concentrates his business north of Estero, but is knowledgeable (Peter holds a law degree) and can help out from time to time.
CLICK HERE TO BEGIN SEARCHING ALL BROKERS' LISTINGS
Call TOLL FREE: 1-877-465-9455
or 863-441-2986 or 239-498-9257